Capcom Official Site:
capcom.co.jp/basara-x/
Discussion Forum:
sbx.freeforums.org/index.php
Maker: Arc System Works + Capcom
Motherboard: System 256
Release Date: April 2008
Notation:
7 / 8 / 9
4 / 5 / 6
1 / 2 / 3
A B C
E
A = Weak attack
B = Medium attack
C = Strong attack
E = Engun (assist button)
Basic System
Dash: 66
Back Dash: 44
Air Guard: Hold 4 or 1 when attacked while in air
Air Dash: Tap 66 or 44 while in the air
Double Jump: Tap up during a jump
High Jump: Tap down, then up.
Throw: close to opponent 4/6+C
Air Throw: close to opponent while in the air 4/6+C
Tech Hit: attack button while reeling in the air.
Chain Combo: A -> B -> C

You can use this basic combo chain during standing, crouching or jumping.
Blast Attack: B+C (hold)

Blast opponent across the screen, hold towards to pursue. Max charged version guard crushes opponent and pushes them to the wall.
Unblockable Attack: 6+B+C (1/2 BASARA Gauge)
Unblockable. Staggers.
Aerial Attack: 2+B+C
Hold up to pursue for combos.
Aerial Spike: During Aerial Attack, 2+C
A special attack that knocks opponent down.
One-Hit BASARA Activation: When One-Hit gauge is lit, A+B+C

You can do One-Hit BASARA move afterward. And you can only do that move once per round.
Perfect Guard: (air) 4+A+B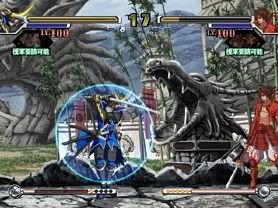 It drains BASARA Gauge, push back effect is greater, prevents chip damage and decreasing Guard Gauge, block air unblockable attacks, and increases player' health (only the blue segment).
Just Defense: Block an attack just before it hits
Block stun significantly reduces, push back effect is minimized, doesn't reduce Guard Gauge, will increases BASARA gauge.
Guard Cancel Attack: Block, then 6+B+C (1 BASARA gauge stock)
Damage is low, but changes offense/defense dynamic when it succeed.
Energy Gauge: The players' health is indicated by orange life bars on the top of the screen. When that runs out you lose the round. A portion of all inflicted damage is shown as a blue segment of the life bar. It's possible for that portion to recover by doing Perfect Guard.
Guard Gauge: The small blue bar right below the Energy Gauge is the Guard Gauge. This is depleted as you block attacks. When it reaches zero you'll suffer a guard crush and become briefly unable to block.
BASARA Gauge: Used to perform super moves, etc, the BASARA Gauge is all the way at the bottom of the screen. You can hold five stocks in total.
One-Hit Gauge: It will gradually turn red as you attack opponent with certain special / BASARA moves, and counterhit of normal / special moves. Once it's full it will flicker, you can do One-Hit BASARA preparation afterward.
Engun System
Engun summon -> Engun travelling -> Engun arrived -> Engun assessable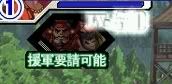 Engun start out at Lv.1 and level up automatically as time progresses. Engun Lv generally increase 1 Lv per second before Engun Summon.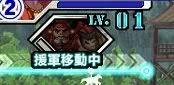 The first time that you press the E button, you'll summon the engun and their level will be fixed at the current point for the rest of the match. A blue meter appears (with a horse) that indicates how much time remains until they arrive; the higher the Engun level, the longer this takes.
Once engun arrived, you will see this. Then a meter will appear below their portrait and you can use a variety of abilities as long as it isn't empty.
The strength of these abilities is influenced by the engun level as follows:
Level 1

Weak Engun Attacks. Only 1/3 of the engun meter available.
Level 50

Medium strength Engun Attacks. 2/3s of engun meter available.
Level 100

Maximum strength Engun Attacks. The entire engun meter is available for Engun abilities.
When you use an engun atttack, it depletes the meter. It fills up over time if you don't do any engun actions.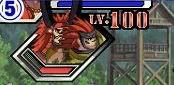 When Engun meter reaches MAX, that means you do Engun attacks three times in a row at maxmium (Lv 100).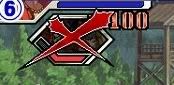 A red 'X' appears over their portrait when engun abilities are unavailable (if the meter is empty, etc.)
Engun Attack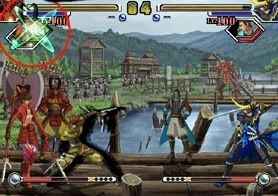 Having summoned your engun, press the E button to have them attack your opponent. These attacks become stronger as you level up. As long as your engun meter isn't empty, you can use Engun Attacks in succession; even if they're currently attacking, press the button again to cancel their recovery and have them repeat their attack.
Engun Aerial
An engun attack that you can perform in the air. Your engun launches opponent up.
Engun Assist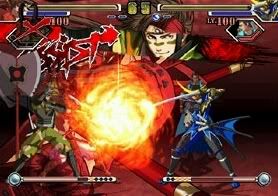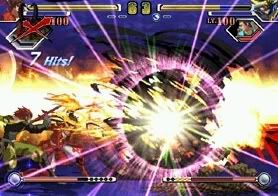 Press E during certain Basara moves to use an Engun Assist. The timing here varies from one move to the next. Your engun will join in on the assault and add extra hits. This requires a Basara stock.
Engun Counter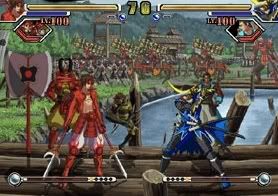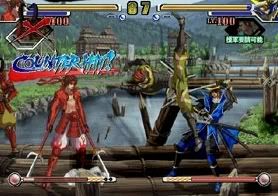 Press E while taking damage to have your engun leap out and counter attack your opponent. Note that uses an engun meter, as well as a Basara stock. It lowers 30 Engun level for each use.
Engun Block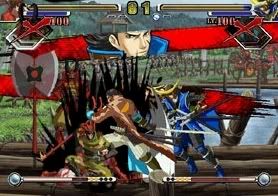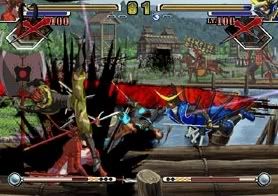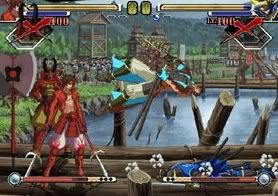 If your opponent uses an Engun Counter press E quickly to call your engun out to defend against their counter attack. This also requires a BASARA stock.